Sleep with the fishes takes on a whole new meaning: Underwater hotel on remote island
This is the sort of holiday that really appeals to me and the hotel is a dream. Imagine being this close to the action. Diving has never been so well catered for. In fact you don't even need to dive with these rooms with unique views.  This article is by Frances Cha, CNN.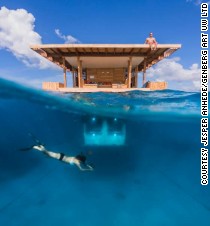 (CNN)–Notch this up to Swedes and another ridiculously cool, innovative design.




This latest effort can be found off an African island and straightaway is placed high on that list of 'amazing hotels I wish i could get to' many travelers have.
Just off the coast of Tanzania, T
he Manta Resort
on Pemba Island has added a beautiful, other-worldly underwater bedroom to their original 16-room offering.
The new 'digs' opened for business this month, designed by Swedish company Genberg Underwater Hotels.
Lying approximately 250 meters offshore, the latest underwater structure is a three-story affair, with a rooftop deck, a bathroom and a lounge area at sea level and finally the bedroom downstairs, with the fish.
At night, spotlights under the windows attract and illuminate squid and octopus — a more reclusive crowd than the daytime sea life.
The resort is popular with divers owing to the coral reef around the island.
Read more: http://www.cnn.com/2013/11/17/travel/underwater-room/index.html